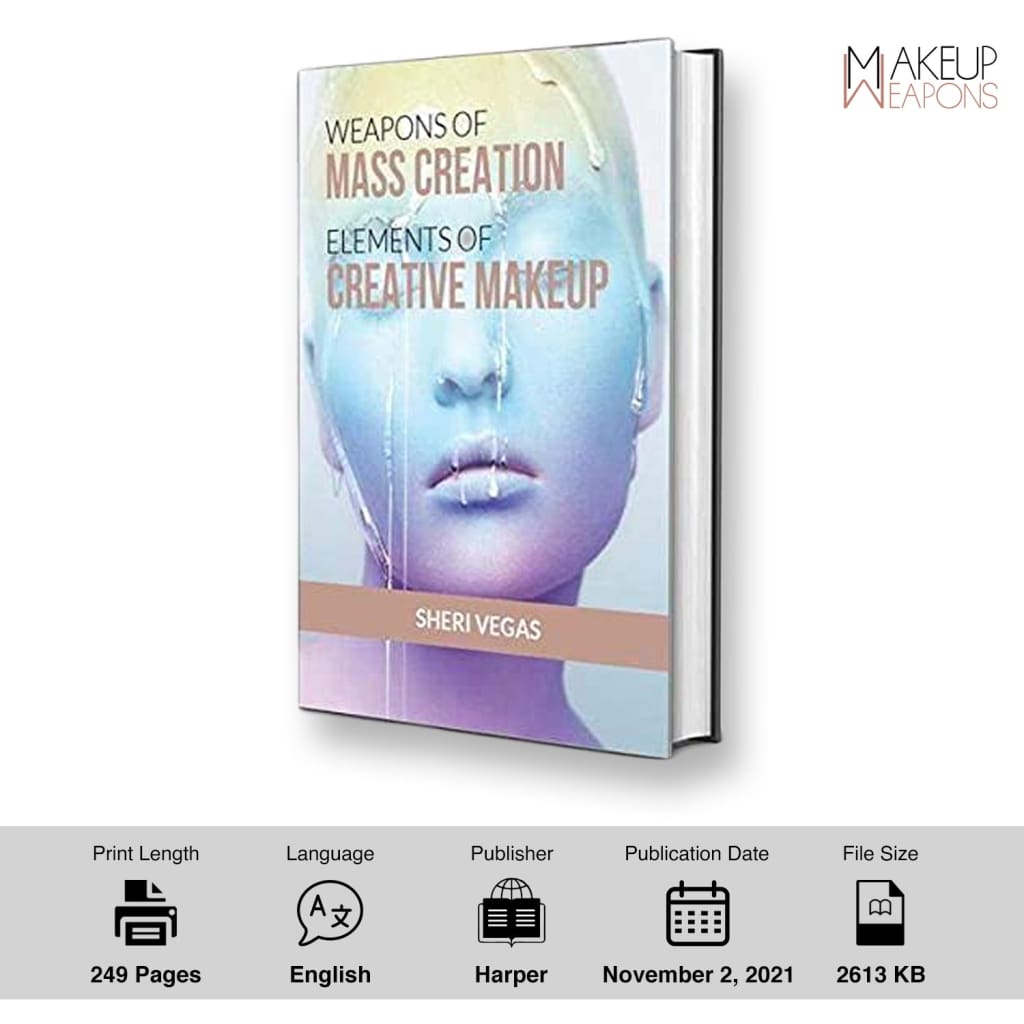 Weapons of Mass Creation Ebook By Sheri Vegas
$25.00
Forward By Isabelle De Vries
Sheri Vegas has played a predominant role in making the Australian beauty industry what it is today. As an Award-winning make up artist, entrepreneur, and educator, with a strong background in art as an abstract resin artist, Sheri knows the importance colour theory plays in our lives.
Creativity Takes Courage.
This book came to me at a time when I need art the most, I had lost the drive and the passion for something that I had once loved. The industry had taken its toll on me, I felt lost at sea, I was just floating away with no real drive or passion anymore. My ideas had dried up, my brain had burnt out and the love was gone
I soon discovered that it was not the passion to create that had faded, it was the courage to create that had faded. I put down my makeup brushes, stepped away from my creativity and decided to work on the business side of beauty. However I was not as fulfilled as I hoped, I still felt that tingling you feel, when you see someone else creating and your just itching to help. So it was time to pick up my brushes.
Just because my brain had decided to be logical did not mean my heart had to follow.
I returned back to painting, my original passion, which lead me to be a makeup artist in the first place. I tried to use painting to ease my tingling fingers and roaming mind, but the more I painted and played with new textiles and medium the more my courage to create came back. Being able to express my creativity in new ways lit the spark in me again and my creativity was set on fire. I wanted to paint faces again and push myself as a makeup artist.
Using items that were not traditional cosmetics products in each makeup design and experimenting with new mediums, texture and materials and that is how the book was born.
In each look, there are elements used that you would not normally expect to see in beauty or creative makeup but those elements are what makes each makeup design interesting and special. Not only do you get to see the images that sprang from my imagination, but you will also be invited to experience the journey of how these makeup designs were created. 
Pre-sale price $15.95  Now Released !!! 
Purchasing in the pre-sale will mean that once the ebook is released you will be emailed out your copy to download to your computer or iPad. 
Ebook release dated Dec 2019, 2020 future price will be $35.95  
Australian owned, Makeup Weapons' brushes are the magic make-up weapons that belong in your beauty kit. Only the best materials have been used by artisans to 100% hand-craft these must-have beauty brushes including the highest grade, durable synthetic hair, sustainable bamboo and strong copper ferrule instead of the industry standard of aluminum. It can take 30 to 50 skilled artisans to create one complete set of Makeup Weapons brushes – whilst this is a much longer process than being machine made it ensures a premium hand-crafted product.